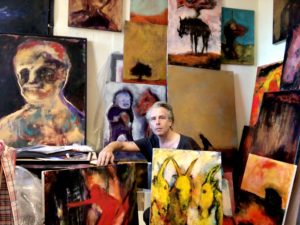 Born in 1966, painter and musician James Johnston has primarily been known for his work as a musician -with his own band Gallon Drunk,
as a former member of Nick Cave and the Bad Seeds, and more recently for his work touring and recording with PJ Harvey.
His turn to figurative painting initially began with working small scale in hotel rooms on tour, subsequently becoming his primary focus as a daily studio practice.
His paintings are both bold and loose, and marked by their rich and striking use of colour. The often unsettling, darkly humorous, and totemic images are based between the everyday and the world of the imagination, grounded with a sense of simplicity and beauty.
A prolific painter, his work has been used on book covers, as album artwork and featured in a variety of international arts publications.
"A remarkable gift for loose, raw painting… that straightaway imprints itself on the viewer's imagination" – The Economist.
Solo shows
2019
The Stash Gallery, London
Quo Vadis, London
Group shows
2019
You Know More Than I Know – The Art Academy, Walworth, London
A letter in mind – London Oxo Tower, London
2018
Linear – Gallery 64a., London
Extricate – Gallery 64a., London
Push The Boat Out – The Art Academy Walworth, London
Jo Mama's Alphabet Show – Studio One gallery, London
Jo Mama's Second Alphabet Show – A-side B-side gallery, London
A letter in mind – London Oxo Tower, London
Featured artist in magazines:
Persona #8. France.
Sargasso arts magazine (Featured artist and cover art). Germany.
Epifanio 2018 edition. Estonia.
The Economist, Prospero arts edition.
Books:
The Art of the Murder Ballad
'Nadirs' – Tom Buron.
'Love is an ancient disease' – M.A. Littler